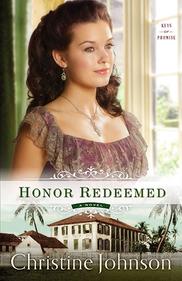 Prosperity Jones has lost everything. Born and raised in Nantucket, her father was a whaler who was lost at sea. A few years later, she lost her mother to consumption. With nothing left in life but herself, she sets out for Key West to reunite with her fiance' David Latham, who is stationed there as an army engineer. When she arrives in Key West, she finds that she has lost David, as well. You would think that she has nothing left to live for. But, under-girding all her loss is her unwavering faith in God, who can make good out of bad and is the author of all things good. So she has not lost all, she still has her faith, the most important thing. With no money to sail back to Nantucket, she is forced to stay in Key West and takes a job as a laundress at the hospital. Heartbreak covers every day as she sees the evidence of David's infidelity, as their paths cross. He has taken a wife of ill-repute who carries his unborn child. I leave it for you to read and discover the fulfillment of this story.
Christine Johnson, the author of
Honor Redeemed
has written the second book in the Keys of Promise series. This is my first time reading her work. I loved this book. It was easy to read, yet carried a depth of emotion that I could relate to. Her characters are well written and contain my favorite trait, human frailty. That lends a touch of reality that brings a character to life. The complicated plot lines were believable and could all happen in real life. The sentence structure and grammar were spot-on, allowing the reading to sail smoothly. I can't say anything bad about this book. It was great. I plan on circling back to the first volume in Keys of Promise which is
Love's Rescue.
I am interested in the other characters in this book who are introduced in the first book.
I give
Honor Redeemed
five stars and urge you to get your copy asap! I was given a complimentary copy of this book by Revell, a division of Baker Publishing, in exchange for an honest review. These words are my opinion.
Find out more about this book at
Baker Publishing | Honor Redeemed
. Read about Christine Johnson and her writing at
Christine E. Johnson
Thanks so much for reading! See you soon,
~Jeri